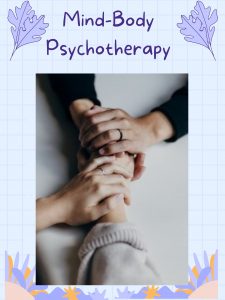 It can be difficult to learn how to connect with our bodies after stressful life experiences. Mind-Body Psychotherapy can help you overcome your predicaments by helping you to find peace within yourself. It helps you strengthen mind-body coordination and tries to find the root cause of your discomfort. Mind-body psychotherapy will help you realize your true potential and harbor a deeper meaning of existence and self-assurance that will guide you to a serene life in the present and ahead into the future.
Providers at The Functional Medicine Center for Mind-Body Psychotherapy:
Our Mind-Body Psychotherapists are clinically licensed mental health providers who are trained in evidenced based psychotherapies who use integrative medicine to accelerate the healing process.
We all have the potential to be successful and possess the tools we need to achieve our goals. We look at treatment as a journey taken together to find this potential within.  We offer offer insight, and skills to help you attain the change you seek. By using a holistic, integrated approach to mental health counseling, we provide our clients with the tools they need to lead successful, fulfilled lives.
Choose your Mind-Body Psychotherapy related services