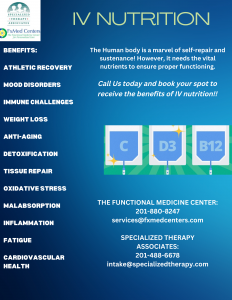 IV vitamin therapy or IV micronutrient therapy are all different way to refer to IV nutrition therapy. IV nutrition therapy is aimed at providing supplemental micronutrients and vitamins to improve holistic mind-body health and boost bodily functions along with enhancing protection for the various organs and organ systems.
IV Nutrition Therapy benefits:
(•) Boosts the immune system and protects the organs/organ systems. (•) Improves bodily function, strength, stamina, energy, focus, attention, memory, and libido. (•) Essential amino acids and antioxidants can help addressing health concerns such as: asthma, chronic migraines, fibromyalgia, seasonal allergic rhinitis, depression, cardiovascular disease, etc. (•) Repair, synthesis and damage control on a cellular and genetic level. (•) Rehydration, restoration and disease prevention. (•) Anti-aging and metabolism enhancement
Components of IV nutrition:
(•) Vitamin B complex (Thiamine, Riboflavin, Niacinamide, Dexpanthenol, Pyridoxine, Cyanocobalamin, Biotin), (•) Folic Acid, (•)Calcium, (•) Magnesium Chloride, (•) Zinc sulphate, (•) Essential antioxidants (Glutathione, Carotenoids, etc.), (•) Amino Acids (Taurine, Lysine, Glycine, etc.), (•) Essential vitamins: Vitamin C, D, E, K
Our IV Nutrition providers at The Functional Medicine Center:
Our IV: Nutrition Provider is an expert in IV based nutrition therapy programs and a highly qualified professional with multiple certifications. Get the best of ultimate health benefits with the power of IV: Nutrition at The Functional Medicine Center (FxMed Centers).
Choose your IV: Nutrition related services: