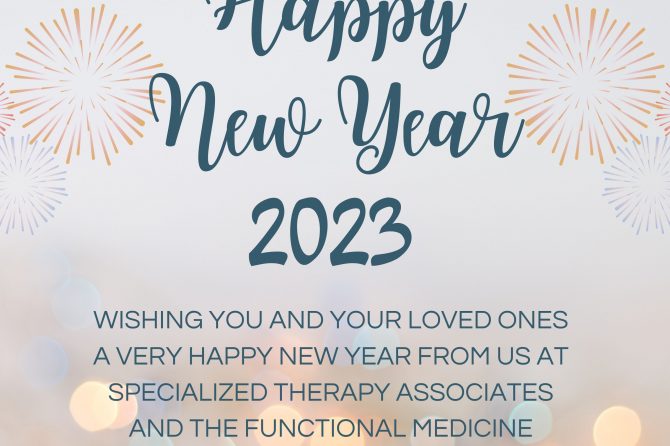 Paradoxically, change is the one constant that must happen for life to go on! However, every year millions of people make health goals and new year's resolutions, many of which seem very difficult for us to follow through. Why does this happen? Why do we make goals that many of us can't follow through on? Is there faulty overambitious reasoning behind the shortcomings, or is there a paucity in the systemic procedure of setting resolutions? Let's see what data and actual work of scientific research has to say!
Although the idea of setting New Year's resolutions is extremely popular, there is only a handful of publications that shine a light on whether it is possible to enhance the probability of a resolution's success by administering information and exercises on effective goal setting. In a study (Randomized Controlled Trial, RCT) that contained 1066 participants, the most popular resolutions were related to bringing holistic changes to physical health, eating habits, interpersonal relationships, academic or career growth, and weight loss. Hence, they were divided into three groups: Active control, Some support, and Extended support. After a year, 55% of the participants considered themselves successful in achieving the goals they set a year ago. However, the data elucidated a much greater detail on why these subjects succeeded.
The study found that subjects that had "approach-oriented goals" were more successful. They broke down the details of how and what steps they needed to take for achieving their resolutions and performed much better than the subjects with "avoidance-oriented goals" (58.9% vs. 47.1%). The study found that compartmentalization played a significant role in achieving the goals they set for themselves. Additionally, groups that received support and information with exercises for effective goal setting were more successful. Furthermore, the study also found that New Year's resolutions have lasting effects on both physical and mental health for years to come.
What worked for these participants was the fact they used a method called the SMART goal-setting system. In 1981, George Doran, Arthur Miller, and James Cunningham came up with the idea that objectives that were Specific, Measurable, Attainable, Realistic, and Timely would often succeed. Even neurologically speaking, the region in the brain (prefrontal cortex) which is responsible for willpower, is mostly busy with what neuroscientists call "the cognitive load". A few credible works of qualitative research suggest that the prefrontal cortex is so overtaxed with cognitive responsibilities that any adverse information that undervalues willpower will often subconsciously make an individual give up on their goals that require strong motivation. Believe it or not, willpower requires quite a bit of energy. Starving the brain of glucose even for a few hours can have a drastic change in behavior as many studies suggest. Many researchers argue that all these have a lot to do with how the prefrontal cortex evolved. For many, the question remains: could that be the reason why weight loss and getting in shape are so difficult for some people?
Nonetheless, science confirms that breaking down your goals into small achievable, and realistic goals, depending on psychological training or mental exercise and receiving as much professional support and information as possible, all help you in making your New Year's goal a tangible reality!
If you or anyone you know have been struggling with motivation, physical or mental health issues, please contact Specialized Therapy Associates at 201-488-6678 or The Functional Medicine Center for Personalized Care, LLC (www.FxMedCenters.com) at 201-880-8247 for our Integrative Mind-Body Health services. If you need more support to make your goals and new habits a reality in 2023, join our coaching group, 'New Year Reset: 8 Weeks to Your Best Self." You'll receive support, accountability, and customized guidance to help make your goals a reality. Call Specialized Therapy Associates at 201-488-6678 to register or learn more.
References:
Aghera A, Emery M, Bounds R, Bush C, Stansfield RB, Gillett B, Santen SA. A Randomized Trial of SMART Goal Enhanced Debriefing after Simulation to Promote Educational Actions. West J Emerg Med. 2018 Jan;19(1):112-120. doi: 10.5811/westjem.2017.11.36524. Epub 2017 Dec 21. PMID: 29383065; PMCID: PMC5785177.
Friedman NP, Robbins TW. The role of prefrontal cortex in cognitive control and executive function. Neuropsychopharmacology. 2022 Jan;47(1):72-89. doi: 10.1038/s41386-021-01132-0. Epub 2021 Aug 18. PMID: 34408280; PMCID: PMC8617292.
Larimer ME, Palmer RS, Marlatt GA. Relapse prevention. An overview of Marlatt's cognitive-behavioral model. Alcohol Res Health. 1999;23(2):151-60. PMID: 10890810; PMCID: PMC6760427.
Norcross JC, Mrykalo MS, Blagys MD. Auld lang syne: success predictors, change processes, and self-reported outcomes of New Year's resolvers and nonresolvers. J Clin Psychol. 2002 Apr;58(4):397-405. doi: 10.1002/jclp.1151. PMID: 11920693.
Oscarsson M, Carlbring P, Andersson G, Rozental A. A large-scale experiment on New Year's resolutions: Approach-oriented goals are more successful than avoidance-oriented goals. PLoS One. 2020 Dec 9;15(12):e0234097. doi: 10.1371/journal.pone.0234097. PMID: 33296385; PMCID: PMC7725288.
Leave a reply