Have you ever thought to yourself, "I would really like to make healthier choices and feel my best?" Whether you are contemplating change or already have a plan in place, working with a health coach helps you get from where you are to where you want to be.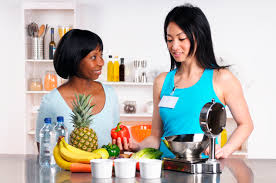 Together, you and your coach will set realistic goals to help you achieve your vision for optimal wellness. Health coaching is tailored to your individual needs and unique biology. Your coach will empower you to tap into your inner strengths to help motivate you when you're feeling stuck.
Topics that are commonly addressed in health coaching include, but are not limited to:
 Making healthier food choices
Stress management
 Optimizing sleep
 Adding more movement
 Cleaning up your environment
 Improving mood
 Creating more time for things that bring you joy
While a health coach cannot diagnose or treat medical conditions, they can collaborate with your medical team to support you with adhering to the recommendations made by your providers.
Making small changes to the choices you make on a daily basis can yield big results and positively impact your body and mind.
You may want to try this exercise:
 Consider an area of your life that you would like to improve
What would your life look like if you were to make improvements in this area?
 Brainstorm what steps you have to take to get there
 Ask yourself, who or what can help support you with achieving your goal?
 What challenges might get in the way?
Partnering with a coach will help you answer these questions and help you take your health to the next level. To learn more about our health coaching services, call 855-MYFXMED (693-9633) or visit us at fxmedcenters.com Sign up for a FREE consultation with our certified coach.
By Kristen Dahlem, RN, NBC-HWC, FMCHC
Leave a reply